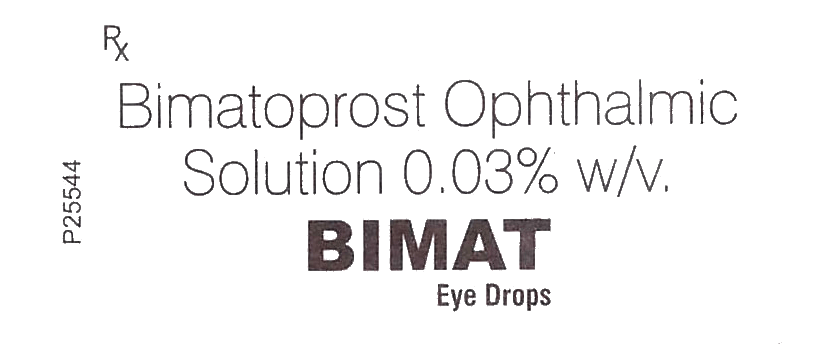 Generic Latisse / Bimat / Bimatoprost 0.03%
COMPOSITION :
Each ml contains :
Bimatoprost 0.3 mg
Benzalkonium Chloride IP 0.005% w/v
(As preservative)
Sterile aqueous vehicle q.s.
CLINICAL PHARMACOLOGY:
Mechanism of Action:
Bimatoprost is a prostamide, a synthetic structural analog of prostaglandin with ocular hypotensive activity. It selectively mimics the effects of naturally occurring substances, prostamides. Bimatoprost is believed to lower intraocular pressure (IOP) in humans by increasing outflow of aqueous humor through both the trabecular meshwork and uveoscleral routes. Elevated IOP presents a major risk factor for glaucomatous field loss. The higher the level of IOP, the greater the likelihood of optic nerve damage and visual field loss.
Pharmacokinetics:
There was no significant systemic drug accumulation over time.
INDICATIONS AND USAGE
Generic Latisse / Bimat 0.03% is indicated for the reduction of elevated intraocular pressure in patients with open angle glaucoma or ocular hypertension who are intolerant of other intraocular pressure lowering medications or insufficiently responsive (failed to achieve target IOP determined after multiple measurements over time) to another intraocular pressure lowering medication.
CONTRAINDICATIONS
Bimatoprost is contraindicated in patients with hypersensitivity to Bimatoprost or any other ingredient in this product.
WARNINGS
Generic Latisse / Bimatoprost has been reported to cause changes to pigmented tissues. These reports include increased pigmentation and growth of eyelashes and increased pigmentation of the iris and periorbital tissue (eyelid). These changes may be permanent.
PRECAUTIONS:
General:
Patients may slowly develop increased brown pigmentation of the iris. This change may not be noticeable for several months to years. Typically the brown pigmentation around the pupil is expected to spread concentrically towards the periphery in affected eyes, but the entire iris or parts of it may also become more brownish. Until more information about increased brown pigmentation is available, patients should be examined regularly and, depending on the clinical situation, treatment may be stopped if increased pigmentation ensues. The increase in brown iris pigment is not expected to progress further upon discontinuation of treatment, but the resultant color change may be permanent.
Neither nevi nor freckles of the iris are expected to be affected by treatment.
Bimatoprost should be used with caution in patients with active intraocular inflammation (e.g., uveitis).
Macular edema, including cystoid macular edema, has been reported during treatment with bimatoprost ophthalmic solution. Bimatoprost should be used with caution in aphakic patients, in pseudophakic patients with macular edema.
Bimatoprost has not been evaluated for the treatment of angle closure, inflammatory or neovascular glaucoma. Bimatoprost should not be administered while wearing contact lenses.
Pregnancy:
Teratogenic Effects: Pregnancy Category C.
There are no adequate and well-controlled studies of Bimatoprost administration in pregnant women. Because animal reproductive studies are not always predictive of human response, Bimatoprost should be administered during pregnancy only if the potential benefit justifies the potential risk to the fetus.
Nursing mothers:
It is not known whether Generic Latisse / Bimatoprost is excreted in human milk, although in animal studies, Bimatoprost has been shown to be excreted in breast milk. Because many drugs are excreted in human milk, caution should be exercised when Bimatoprost is administered to a nursing woman.
Pediatric Use:
Safety and effectiveness in pediatric patients have not been established.
Geriatric Use:
No overall clinical differences in safety or effectiveness have been observed between elderly and other adult patients.
ADVERSE REACTIONS
In clinical trials, the most frequent events associated with the use of Bimatoprost occurring in approximately 15% to 45% of patients, in descending order of incidence, included conjunctival hyperemia, growth of eyelashes, and ocular pruritus.
DOSAGE AND ADMINISTRATION
The recommended dosage is one drop in the affected eye(s) once daily in the evening. The dosage of Bimatoprost should not exceed once daily since it has been shown that more frequent administration may decrease the intraocular pressure lowering effect.
Reduction of the intraocular pressure starts approximately 4 hours after the first administration with maximum effect reached within approximately 8 to 12 hours.
Bimatoprost may be used concomitantly with other topical ophthalmic drug products to lower intraocular pressure. If more than one topical ophthalmic drug is being used, the drugs should be administered at least five minutes apart.
PRESENTATION
Available in 3 ml vial.
Store below 25°C.
Manufactured in India by :
ajanta pharma limited
Ajanta House, Charkop,
Kandivli (W), Mumbai 400 067.