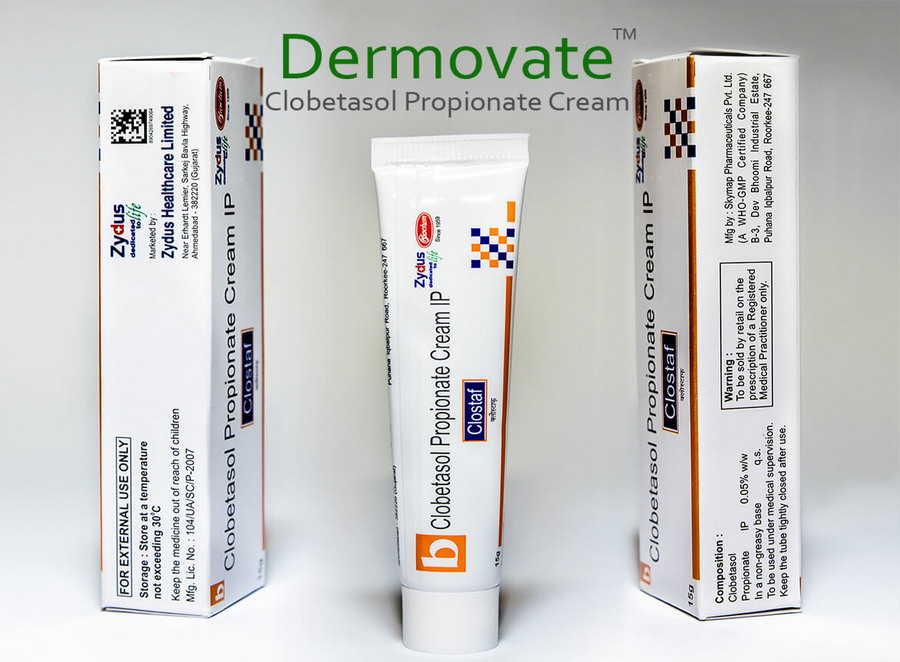 Basic Information

Commercial name: Clostaf (generic Dermovate)

Active ingredient: Clobetasol propionate cream IP 

Volume: 15g  

Strength: clobetasol 0.05%

Form: cream

Usage: For external use only. A thin layer of cream on the affected area once or twice daily for not less than 4 weeks. 

Duration: As recommended by the physician and depending on the severity of the disease. 

Storage: Store below 25°C out of the reach of children.

Shelf-life: 2 years.

Manufacturer: Zydis Healthcare limited.


Origin: India

Clobetasol cream (Dermovate generic) - corticosteroid cream for psoriasis treatment. 
Are you still troubles by skin disorders such as psoriasis, eczema,

lichen planus, discoid lupus erythematosus?
Many dermatologists advise their patients to use Dermovate cream for psoriasis. Dermovate in the form of a cream or ointment should not be used when a person has a plaque or pustular psoriasis. During the application the
following reactions should be observed: complete elimination of the uncomfortable sensations that psoriasis causes, removal of inflammatory processes in the affected areas of the skin, activation of the regenerative function of the body;
elimination of excessive dryness of the skin, normalization of metabolic processes of the skin, and restoration of normal blood circulation in the vessels. If you require deep penetration of clobetasol, you may require to use ointment instead of cream.




Start your treatment with Clostaf (Dermovate generic)
Your doctor may prescribe Clobetasol cream as a solution to your problem. It is a corticosteroid product with a potent anti-inflammatory effect associated with vasoconstriction and a decrease of collagen in the skin. Clobetasol is used only when other topical products proved to be not effective. Dermovate cream reduces itching, redness, and hyperemia in the place of application. If there is no effect within 2 weeks, ask your doctor to reconsider the diagnosis.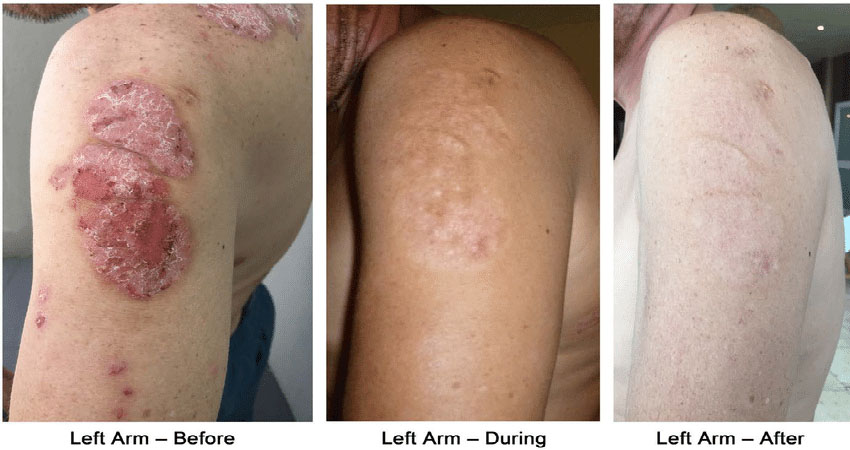 Why do you need to use Clobetasol (Dermovate generic)?
How to use Clobetasol cream

1. Apply a thin layer of Clobetasol cream once or twice daily only to clean and dry skin.
2.Wash hands before each application of Clobetasol cream.
3. Do not apply to healthy skin areas.
4. Avoid contact of Clobetasol cream with mucous membranes of the nose and eyes.
Do not use after expiration date. Continue using cream even the results are not visible within the first 2 weeks.
Treatment progress with Dermovate generic (Clostaf cream)
If you don't notice an improvement within 14 days, consult your doctor immediately.
Do not use Clobetasol cream for more than 28 days. 
Clobetasol helps to reduce symptoms of psoriasis and induces a stable remission. Clobetasol cream eliminates inflammation, reduces pain and itching, suppresses allergic reaction.
This substance penetrates the skin, the peak concentration of Clobetasol is observed 3 hours after application. Unfortunately, the systemic metabolism of the drug has not yet been studied, so it must be used with caution in liver and kidney diseases.
The full course of treatment contributes to the complete restoration of damaged tissues, prevents changes in skin pigmentation. Clobetasol gives a noticeable moisturizing effect, softens the crusts, and makes them easy to remove.
The cream eliminates the flaking of the skin.
After a few weeks of treatment, the skin becomes smooth and pink in color. 
Full satisfaction is guaranteed!!!
Dermovate=Clostaf


Same active ingredients


Same additives


Same volume


Same indications


Same results for less money


A Dermovate and Clostaf are identical products made by two different manufacturers. They contain the same active ingredient Clobetasol propionate and are used for the same purposes. Both products provide great results in psoriasis and other skin diseases.
Generic Dermovate brief description
Product name - Generic Dermovate cream 0.05% - Clostaf cream
Qualitative and quantitative composition - 1 g of Dermovate cream has clobetasol propionate - 0.5 mg (0.05% w/w); cetostearyl alcohol - 80 mg; propylene glycol - 475 mg; and chlorocresol - 0.75 mg. Other ingredients include sodium citrate, purified water, polyethylene glycol, glycerol stearate, glycerol monostearate, citric acid, and beeswax substitute.
Action mechanism - The active substance present is Clobetasol. It is a strong dose of topical corticosteroids. It is used to treat skin conditions that have not responded well to other corticosteroids. This may include severe cases of psoriasis and eczematous dermatitis. The medicine may be harmful to people for whom it has not been prescribed. The cream should be used for short-term therapy or relief of localized skin diseases only.
Indication - The Dermovate Cream is indicated to adults and children over 12 months old. It is only given when other corticosteroids failed to control the condition. The common indications are:
Psoriasis (psoriasis, thickened, inflamed and reddened skin) - often form silver/white-colored scales. Usually covering the affected area; except psoriasis with extensive plaques
Persistent eczema (non-infectious inflammatory skin disease)
Lichen planus - a skin condition that has itchy, reddish-purple, flattened nodules. It may occur at any place such as wrists, forearms or lower legs
Discoid lupus erythematosus - a skin disorder that affects the areas like the face, ears, and scalp. It causes scar formation on the skin as well as increased sensitivity to sunlight 
Mode of administration - It is a soft, white cream and applied topically. It is absorbed cutaneously. The cream is particularly suitable for damp surfaces.
Contraindication - Generic Dermovate - cream must not be used:
If you are allergic to clobetasol propionate or any of the other ingredients listed above
in rosacea - a red condition of facial skin
in acne vulgaris
in inflammatory skin disease affecting the face (especially around the mouth)
itching in the area of ​​the anus and genitals (perianal and genital pruritus)
in skin diseases caused by viruses (herpes simplex, chickenpox), bacteria, parasites or fungi
in certain skin diseases (skin tuberculosis, syphilitic skin involvement)
in skin rashes caused by vaccine reactions
in children under 12 years
Special cautions and warnings - Please talk to your doctor or pharmacist before using Dermovate cream. Take special care if you have an accompanying skin infection (by bacteria or fungi). You have to check for contraindications of Dermovate in those cases with the antibacterial or antifungal medicines. If you experience blurred vision or other vision problems, contact your doctor.
Its evidence of safety in use during pregnancy or lactation is not adequate in humans. Animal testing suggested abnormalities in the fetus. If you are pregnant or lactating or planning a baby consult your doctor before taking this medicine.
The use of Generic Dermovate cream is not expected to affect the ability to drive or operate machines. The cream contains chlorocresol, cetyl stearyl alcohol, and propylene glycol. Cetyl stearyl alcohol may cause localized skin irritation (e.g. contact dermatitis). Chlorocresol may produce an allergic reaction. Propylene glycol can cause skin irritation.
Interaction - No drug interactions reported to date
Side effects -  Generic Dermovate Side effects can affect your skin and other parts of your body when the medicine is absorbed through your skin and gets into the bloodstream. It produces systemic side effects.
Common side effects include:
Itchy skin
Local burning or pain in the affected skin area
Rare side effects include:
Stretch marks
Thinning of the skin (skin atrophy)
Visibility of the blood vessels below the surface of the skin (telangiectasia)
Very rare side effects include:
Acne
Changes in skin color
Dry skin
Hypersensitivity reaction (allergic reaction) at the site of administration
If you have psoriasis, nodules may develop with pus under the skin. These can rarely occur during or after treatment and are known as pustular psoriasis.
Increased body hair growth (hypertrichosis)
Irritation/pain at the site of administration
Rash or hives (urticaria)
Reddening
Skin infection
Thinning and wrinkling of the skin
Worsening of the complaints
Additional side effects in children include:
Delayed weight gain
Delayed growth
If you are having considerable side-effects, then stop using this medicine and contact your doctor immediately.
Interesting facts
Dermovate cream should not be applied to the face, eyelids, intertriginous areas (armpit and genital area)
Dermovate cream should not be used over a large skin area
Dermovate cream should not be used under the bandages or tight clothing or diapers
It should not be used in damaged skin surfaces (wounds, ulcers).
The chronic leg ulcers treatment is associated with a higher incidence of local hypersensitivity reactions and local infection risks
The face, forearms, and back of the hands are particularly prone to corticoid skin damage as they are exposed to sunlight. Application to these areas increases the side effects.
Use Generic Dermovate cream as sparingly as possible.
Use only when prescribed by your doctor
Use the medicine only as long as absolutely necessary to treat your skin condition.
Generic Dermovate Real Shots