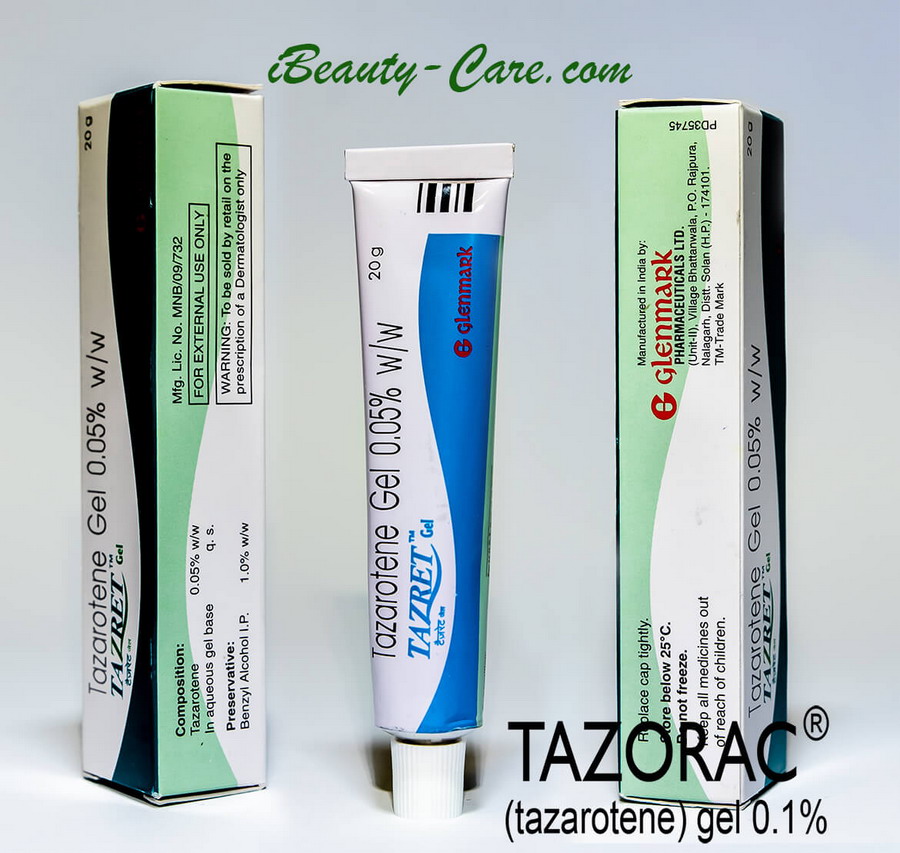 Basic Information

Commercial name: Tazret (Generic Tazorac) gel and cream

Active ingredient: Tazarotene

Volume: 20g   

Strength: tazarotene 0.05%

Form: cream and gel

Usage: a thin layer of gel on the affected area once daily

Duration: as recommended by the physician, usually up to 12 weeks. In some cases, the treatment may last up to 12 months.

Storage: Store below 25°C out of the reach of children.

Shelf-life: 2 years.

Origin: India


Manufacturer: Glenmark
Are you still suffering from psoriasis and acne?
Skin pathologies can occur as a result of infections, injuries, burns, hormonal problems, and autoimmune diseases. The skin becomes dry and inflamed. People complain about itching, redness, discomfort, and other unpleasant symptoms.
Tazret (generic Tazorac) belongs to a group of products called retinoids which are considered to be one of the best solutions for acne. Tazarotene is sometimes recommended for ichthyosis.
It restores the natural process of cell renewal, stimulates the production of melanin, accelerates the recovery processes.




Tazret - your smart decision for skin problems!
Tazarotene is a third-generation retinoid product that comes in the form of cream and gel. By its chemical structure, Tazarotene is very close to natural retinoid Vitamin A that is essential for healthy skin and bones. 
The gel form is mainly recommended for acne vulgaris treatment. Once applied on the face, it keeps the skin pores clear. The cream form is mainly used for facial wrinkles and facial dark sports.
Both cream and gel form are used for mild and moderate psoriasis. They are used to treat plaque psoriasis by reducing the size of lesions.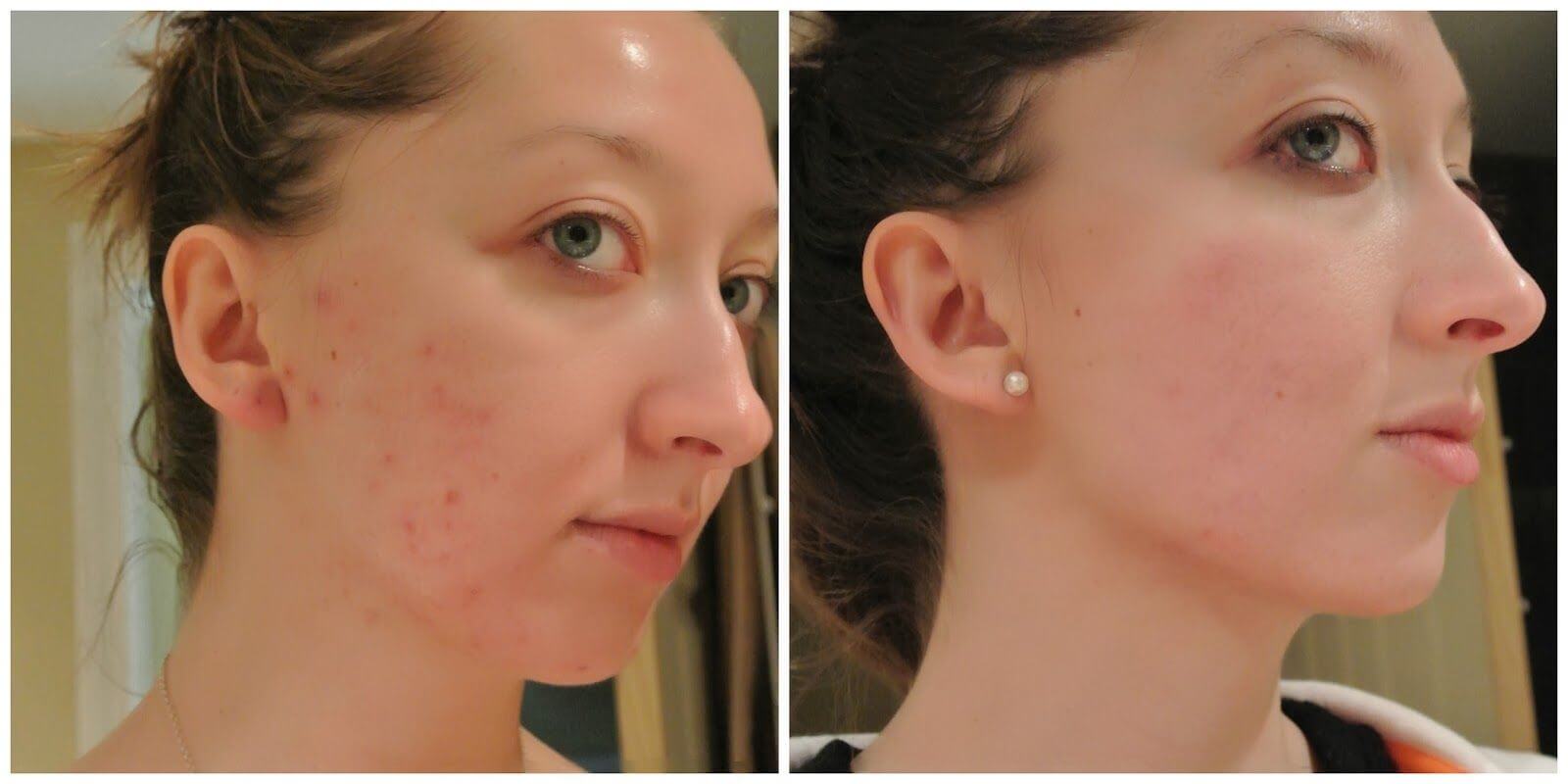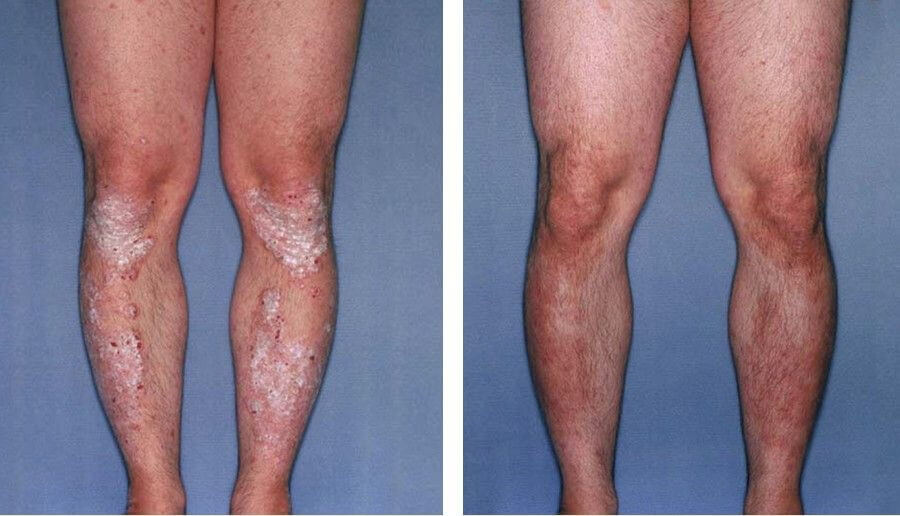 Why do you need to use generic Tazorac?

1.Clinically approved product for acne and psoriasis


2.Normalizes skin regeneration processes


3.Reduces inflammation and size of skin lesions


4. The functionality of sebaceous glands is restored.


5. Maintains moisture in the dermis. 
How to use Tazarotene gel  

1.Wash your hands before application of Tazret gel 

2.

The skin where the application is intended should be dry.

3.Apply a thin layer of gel on the affected area once daily at bedtime. Do not exceed the application on 20% of the total skin area.

4.Do not Tazret gel on open wounds. You may also use lotions or creams with hydrating effects to moisturize your skin 1 hour before you use Tazret gel.

5.Tazret gel is only for external use only.

How to use Tazarotene  cream

1.Gently wash your face with mild soap. Remove all makeup before using Tazarotene cream on the face.

2.Apply a thin layer of cream on the affected area once daily. Avoid contact with eyes. Rinse with water, if contact occurs.

3.Wash your hands after application of cream
4.

You may require to use moisturizing sunscreen in the morning or wear protective closing while using Tazarotene cream for psoriasis.

5.The duration of treatment is determined by your doctor.

Generic Tazorac progress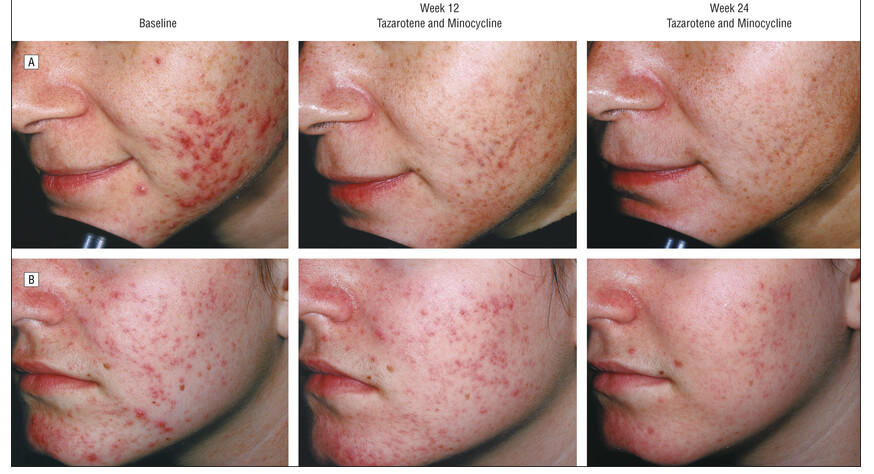 The results may vary depending on many factors such as age, eyelashes condition, and many others. According to the results of clinical studies, first visible results are achieved within 8 weeks.
Acne vulgaris and Psoriasis are chronic skin diseases that can not be cured at once. It may take several weeks, or months to see any improvement. The lack of visible results does not mean that Tazarotene is not working.
Continue using Tazarotene as directed by your physician. Try not to be frustrated. Visit your doctor in 4-8 weeks after starting your treatment.
The treatment usually lasts up to 12 weeks. In some cases, the treatment may last even 12 or 24 months. The duration of treatment is determined by your physician. 
Full satisfaction is guaranteed!!!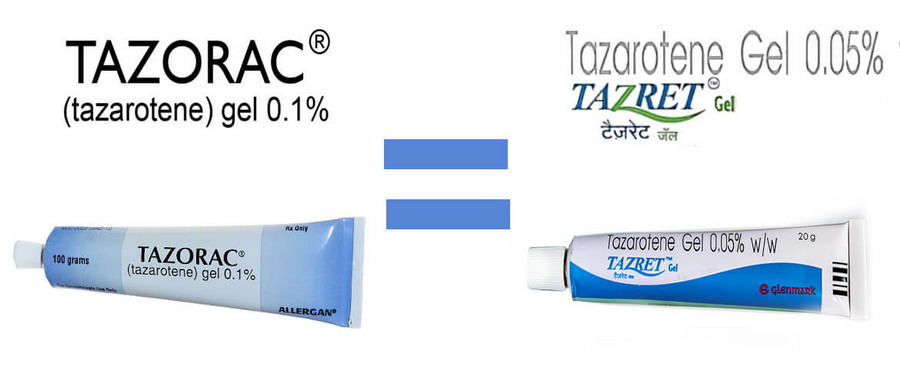 Tazorac and Tazret are identical products made by two different manufacturers. They contain the same active ingredient Tazarotene and are used for the same purposes. Both products provide great results in acne and psoriasis
Tazorac=Tazret


Same active ingredients


Same additives


Same volume


Same indications


Same results for less money



Generic Tazorac brief description
Product name - Generic Tazorac Tazarotene cream 0.1% 15g 
Tazret cream 0.01% and Tazret gel 0.05% 15g made by Glenmark
Qualitative and quantitative composition - Generic Tazarotene cream 0.1% contains 0.1% (1 mg/g) Tazarotene as the main component. Other ingredients are Butylhydroxyanisole (0.05%), Butylhydroxytoluene (0.05%), tromethamine, polysorbate 40, poloxamer 407, macrogol 400, hexylene glycol, disodium edetate, carbomer 974P, benzyl alcohol, ascorbic acid, and purified water.
Generic Tazarotene gel has concentration 0.05%.
Action mechanism - Tazarotene is a form of vitamin A. It primarily helps your skin remain inflammation free by keeping its pores unobstructed (in case of acne). Psoriasis is a type of chronic disease mediated by the abnormal immune response. It is marked by abnormal keratinocyte differentiation, hyperproliferation, and inflammation. The symptoms of Psoriasis may be due to the T lymphocyte infiltration at the affected site triggered by the inflammatory response and subsequent release of cytokines. 
Tazarotene down-regulates these abnormal effects on keratinocyte while upregulating three genes with antiproliferative effects.
Tazarotene relieves psoriasis by reducing inflammation and maintaining cell growth at a normal rate. It seems to help against acne partly by keeping the pores unobstructed. You will begin to notice an improvement within 1 to 4 weeks from the start of treatment. However, it depends on the disorder to be treated and its severity. 
Indication - Generic Tazorac Tazarotene is indicated for the treatment of psoriasis. It is used in the treatment of mild or moderate psoriasis plaques (the most common form of psoriasis) when less than 10% of the body area is affected. This is roughly equivalent to the surface of an arm.
Mode of administration - It is present in the cream or gel form and applied topically on the affected area. Apply a thin layer of tazarotene cream or gel once daily in the evening on affected areas only. The skin must be dry before applying the drug. If you also use emollient or moisturizing creams, apply them first (at least an hour before) and allow them to be absorbed into the skin before applying tazarotene cream or gel. It is sometimes prescribed for the treatment of acne.
Contraindication - It is not indicated for the treatment of suppurative or pustular psoriasis or psoriasis with an increased formation of scales (exfoliative psoriasis). It is also not used in scalp covered with hair, on the face, and wet areas covered with hair such as armpits.
If you are allergic (hypersensitive) to the active substance or any of the other components of the formulation, do not use this cream. Symptoms of allergic reactions may include asthma, breathing difficulties, breathing with audible whistling sounds or rapid breathing, swelling of the face, lips, tongue or other areas of the body. Other symptoms are hives, itching, and rash. Severe allergy can cause loss of consciousness, paleness, sweating, etc.
It is not recommended to use this medicine during pregnancy, lactation, or when pregnancy is planned.
Special cautions and warnings - The application of tazarotene in healthy, eczematous or inflamed skin can cause irritation. Do not apply tazarotene in more than 10% of the total body surface area. Avoid excessive exposure to UV rays (PUVA therapy, solarium, sun, or UVB therapy) during treatment. Coal tar shampoos should also be avoided.
Especially avoid contact with eyes, lips and mucous membranes. Wash with plenty of water if accidental contact is made. Wash your hands with soap and water after applying the gel or cream and remove the medicine from unaffected areas.
Retinoids can cause severe irritation on eczematous skin. If you have eczema, your doctor will monitor your condition while you use tazarotene.
Interaction - Avoid the simultaneous application of other products on the skin, if they have a strong dehydrating effect. It can interact with different vitamin A products, perming solutions for hair, medicated cleansers, shampoos, and soaps, astringents (perfumes, calamine), and other skin products containing lime or alcohol.
Side effects - A side effect is an undesirable response to a generic Tazorac when taken at normal doses, which may be mild and temporary. But sometimes severe and permanent effects are witnessed. At least 1% of people taking this medication have reported the following side effects. Many of these side effects can be taken care of and some can go away on their own with time. These are:
Dryness, 

Itching, 

A tingling or cooking feeling after application

Redness or scaling redness of the skin
Some rare side effects include:
Pain or swelling in treated surfaces

Severe rash (for people with psoriasis only)

Intense dryness, itching, peeling or redness of the skin

Intense burning or tingling sensation of the skin
Interesting facts
Generic Tazorac may cause local skin reactions (such as contact dermatitis) or irritation of the eyes and mucous membranes due to the presence of butyl-hydroxyanisole and butylhydroxytoluene.

Do not use the medicine under the compression bandages or in combination with other psoriasis medications for external use

Do not use this medicine if If you are pregnant or breastfeeding or if you plan to become pregnant

It is not suitable for children below 12 years of age
Generic Tazorac Real Shots