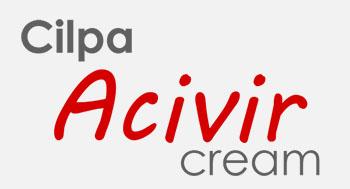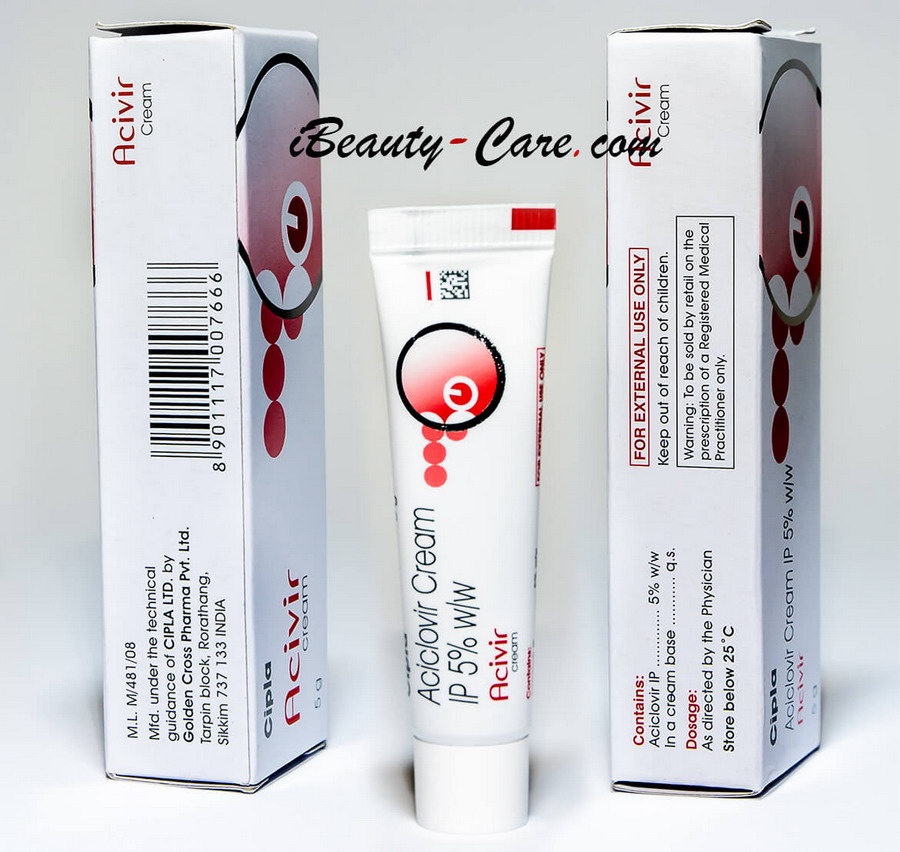 Basic Information

Commercial name: Acivir (generic Zovirax)

Active ingredient: Aciclovir

Volume: 5g  

Strength: Aciclovir 5%

Form: cream

Usage: a thin layer of cream on the affected 5 times per day

Duration: minimum of 4 days

Storage: Store below 25°C out of the reach of children.

Shelf-life: 2 years.

Origin: India


Manufacturer: Cipla
Are you still suffering from cold sores?
Aciclovir is one of the most prescribed products for herpes infection. It comes both in cream and tablet form.
Aciclovir possesses anti-viral activity against Herpes Simplex Virus type I, type II, and varicella-zoster virus (VZV).
Acivir is also characterized by immunomodulatory and anti-inflammatory properties.



Acivir (generic Zovirax) - your smart solution for herpes infection. 
Acivir comes in the form 5% cream 5g that is applied every 4 hours on the affected area. 
Aciclovir is often the first choice for herpes labialis treatment. After creating the required therapeutic concentration in the dermis, it reduces viral activity an helps to reduce the severity of symptoms such as pain, itching, soreness, burning, and various rashes.



Why do you need to use generic Zovirax cream?

1.Clinically proven effects for Herpes labialis infection


2. Stimulates the acceleration of regeneration processes.


3. Significantly reduces herpes symptoms like itching, soreness, rashes.


4.Well-tolerated and side effects free in most cases.


5.Available without prescription 
How to Use Generic Zovirax (Acivir)
1. Apply a thin layer of Acivir cream to the affected area 5 times daily 
2. The duration of treatment lasts usually lasts 4 days. It is suitable for both adults and children.
3.If the desired effect is not achieved within 4 days, you may continue treatment for up to 10 days.
4. It is usually recommended to use Aciclovir tablets in combination with cream to achieve better results.
5. Acivir cream is intended for external use only. The cream is applied either with a cotton swab or with clean hands to avoid additional infection of the affected areas.
Treatment progress with Acivir cream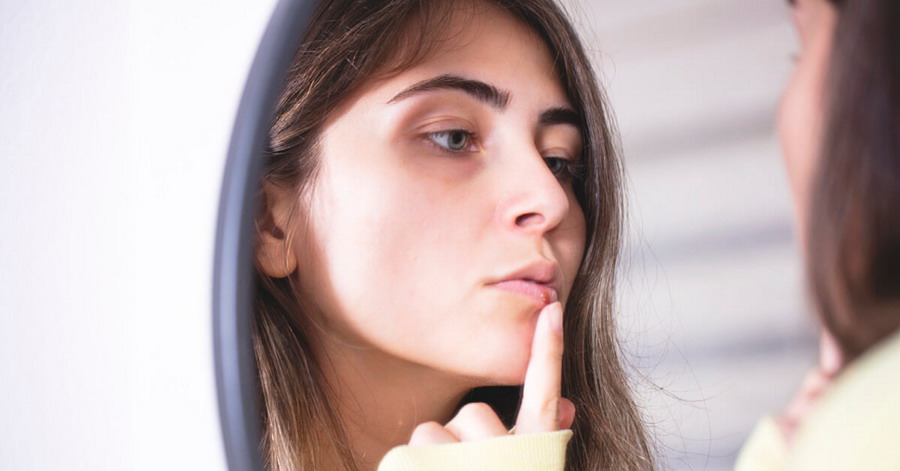 Acivir - clinically proven to improve health and treat the virus. It works at tingle and blister.
An appropriate application of Acivir cream will make you cold sore free in just 3 days. Sometimes it may take 4-5 days for the full recovery.
In order to achieve the best therapeutic effect, it is recommended to apply cream immediately after the first signs of the infection occur (itching, tingling, redness, or a feeling of tension). 
Full satisfaction is guaranteed!!!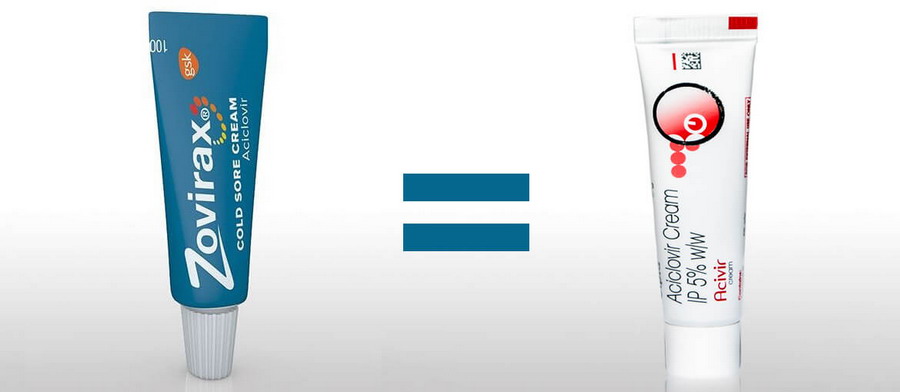 Zovirax and Acivir are identical products made by two different manufacturers. They contain the same active ingredient Aciclovir and are used for the same purposes. Both products provide great results in herpes infection treatment.
Zovirax=Acivir




Same active ingredients


Same additives


Same volume


Same indications


Same results for less money



Generic Zovirax brief description
Product name -Acivir 5% 5 gm cream.
Generic name: Zovirax cream 5%
Qualitative and quantitative composition - Each gram of Generic Zovirax cream 5% contains (5%) Acyclovir in tube of 5g. Non-medicinal ingredients: sodium lauryl sulfate, propylene glycol, poloxamer, paraffin, and cetostearyl alcohol.
Action mechanism - The medicine works by preventing viruses (Herpes simplex) from dividing and multiplying.Current studies have not shown that topical acyclovir prevents transmission of infection to others. You must be mindful that acyclovir will not prevent disease by viruses or cure it completely. However, it can make infections shorter and less serious for some people. But, its effectiveness has reduced over the period with the development of drug resistance.
Indication - Acivir (Zovirax) is indicated for the treatment of herpes in immunocompromised individuals, that is, in people with weakened immune systems. The cream is especially prescribed in case of infection of the skin. The recommended daily dose varies according to the infection and the patient's state of health.
Mode of administration - Apply Acivir (Zovirax generic) liberally to herpes lesions 4 to 6 times a day for up to 10 days as directed by your doctor. A sufficient amount of ointment should be applied to fully cover all lesions. To apply the drug, a fingerstall or glove should be used to avoid spreading the infection to other parts of your body. This medication should be started as soon as the first signs and symptoms appear.
Contraindication - Acivir (Zovirax) is contraindicated in patients who are hypersensitive to its active ingredient (aciclovir or valacyclovir) or to another substance present in the cream.
Special cautions and warnings - Drink a lot of fluids when taking this medicine. Children under 2 years old should not take acyclovir. Use acyclovir with caution if you have kidney disease or any condition that weakens your immune system. If you have these conditions, you may be at risk of serious reactions to acyclovir.
If you are a woman, tell your doctor if you are or may be pregnant or if you are breastfeeding. Researchers have not studied the use of acyclovir in pregnant women, so there is not enough evidence to say it is safe to take it during pregnancy.
The use of this drug during childbirth should not be practicable unless the advantages are considerably greater than the risks. If pregnancy occurs while you use this medicine, contact your doctor immediately. 
It is known that acyclovir taken orally or by injection is excreted in breast milk. However, there is no data on the amount of acyclovir that could be excreted in breast milk after topical acyclovir has been applied. If you use topical acyclovir while you are breastfeeding, your baby may feel the effects. Consult your doctor to find out if you should continue breastfeeding.
Drug interaction - There are no specific drug interactions found while using acyclovir cream topically. The interference of one drug with another does not always result in the interruption of taking one of them. Ask your doctor what to do in case of drug interactions.
Tell your doctor everything you are taking, whether prescription or over-the-counter medications and herbal remedies. Do not forget to mention any supplements you take. If you consume caffeine, alcohol, nicotine or illegal drugs, you should tell your prescribing doctor, as these substances can affect the action of many medicines.
Side effects - Common side effects of Acivir (Zovirax) include:
Skin rash

Redness, itching, or tingling, or redness in the genital area

Contact dermatitis

A slight sensation of burning, pain, or tingling after application
Interesting facts
This medication should not be applied to the eye or mucous membranes, such as the oral mucosa or vagina.

Do not apply a double dose to compensate for the omission of a dose.

Keep this medicine away from moisture and direct exposure to light and at room temperature. Keep it out of children's reach.

Application of topical acyclovir to areas where no symptoms are present will not prevent the recurrence of infection.

It is important to know that acyclovir treatment works best when you start taking it as soon as possible after a rash appears. This means within three days of a skin rash of shingles and within 24 hours of a chickenpox rash.

The efficacy and safety of this cream in children have not been tested.

Current studies have not shown that topical acyclovir prevents transmission of infection to others.
Generic Latisse Real Shots