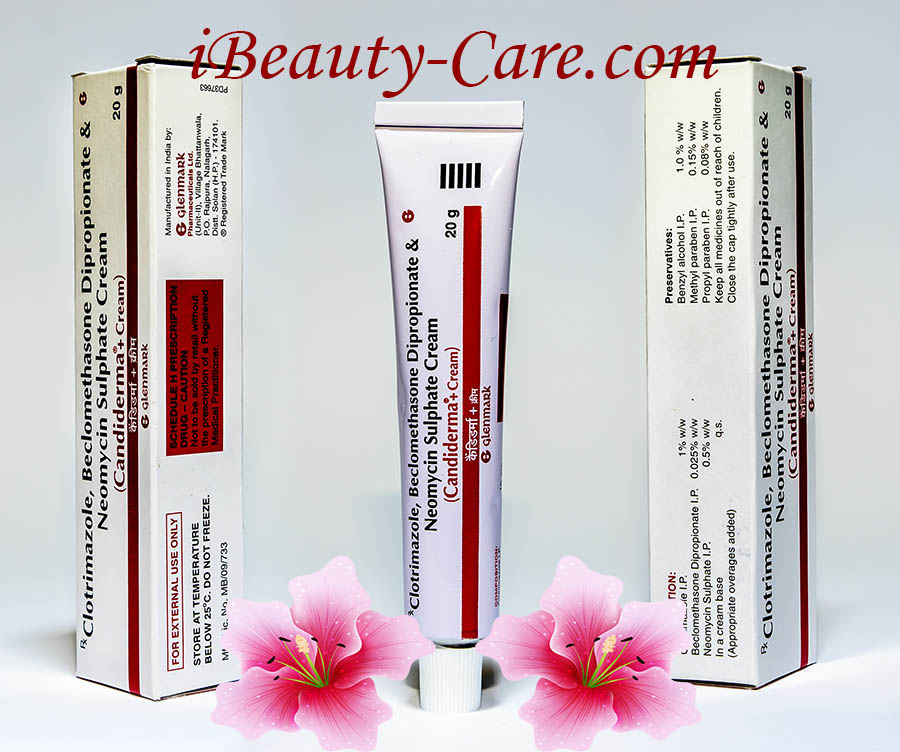 Basic Information

Commercial name: Candiderma plus


Active ingredient: Clotrimazole, Beclomethasone Dipropionate, Neomycin Sulphate
Volume: 20g
Strength: Clotrimazole 1%, Beclomethasone 0.025%, Neomycin sulphate 0.5%
Form: cream
Usage: For external use only. A thin layer of cream on the affected area once or twice daily.
Duration: As recommended by the physician and depending on the severity of the disease.
Storage: Store below 25°C out of the reach of children.
Shelf-life: 2 years.
Manufacturer: Glenmark
Origin: India
Are you still troubled by skin disorders such as eczema, atopic dermatitis, infections caused by bacteria or fungi?
Candiderm plus can be a solution for you. Redness, itching, rash are some of the most common skin irritations that you usually want to get rid of as quickly as possible.
They can cause not only physical but also psychological discomfort, thereby hurting the overall quality of human life.
Candierma is a unique product with a triple action mechanism. It contains 3 active ingredients: Clotrimazole, Beclomethasone Dipropionate, Neomycin Sulphate. Clotrimazole is an anti-fungal compound, Neomycin is an antibiotic and beclometasone is a steroid product with potent anti-inflammatory action. Candideram possesses a triple action mechanism: antifungal, antibacterial, anti-inflammatory.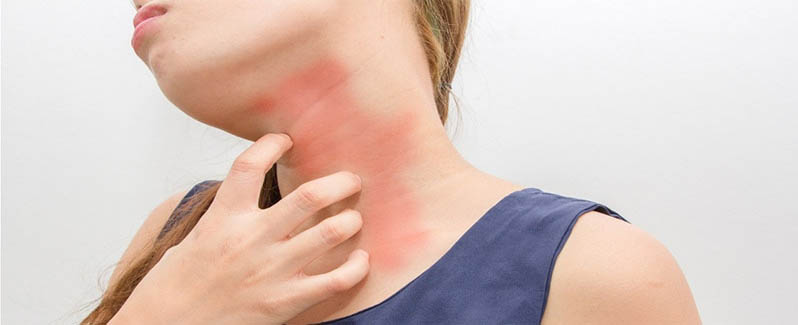 Candiderma - confidence that you feel with your skin!
Dermatitis, eczema, and other skin diseases disturb the integrity of the upper stratum corneum of the skin that performs a protective function.
As a result, fungi and bacteria enter the deep layers of the skin, causing the development of infection and inflammation. Candiderma is a perfect choice for such complicated dermatitis caused fungi and bacteria.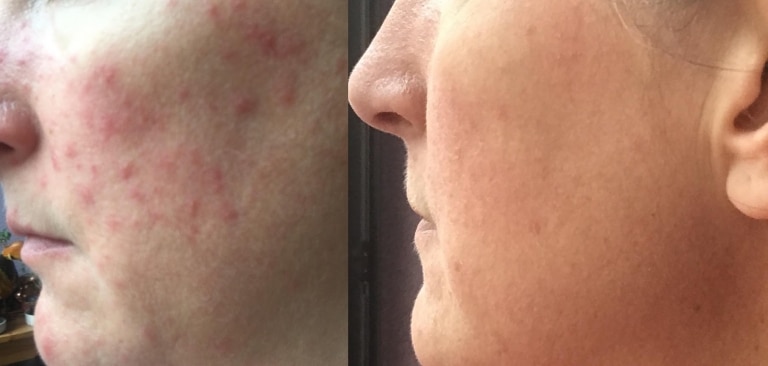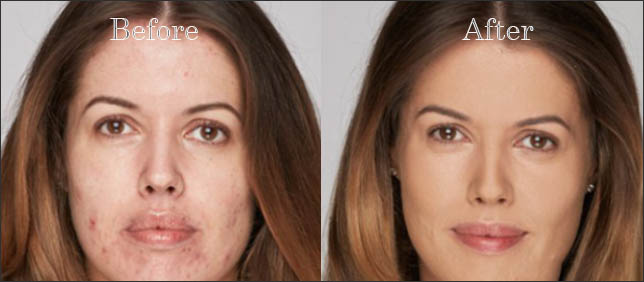 Why do you need to use Candiderma?

Clinically proven therapeutic results
First effects are visible within 2-3 days.
Complex triple action mechanism.
Improves skin condition
Reduces itching, redness, and discomfort in the affected area
How to Use Candiderma cream

1. Apply a thin layer of Candiderma Plus twice daily only to clean and dry skin;
2. Wash hands before each application of Candiderma Plus 
3. Do not apply to healthy skin areas. 
4. Avoid contact of Candiderma Plus with mucous membranes of the nose and eyes. 
5. Do not use after the expiration date. If there is not any progress in treatment within 2-3 weeks, consult your doctor.
Full satisfaction is guaranteed!!!



Why cream not gel form? 
Candiderm cream is mainly used for acute conditions, while the gel form is intended for chronic forms.
The cream is absorbed quickly and easily
No greasy film remains on the skin surface
Wet, inflamed areas dry out
Liquid bubbles decrease in size
The skin cools slightly as if in a breeze
The skin becomes less red
The skin becomes less swollen
Candiderma and Triderm are almost similar products. They both have similar indications and ingredients. Both products provide great results in skin diseases. 
Candiderma Plus = Triderm
Same volume
Same indications
Same results for less money



Generic Triderm brief description
Product name - Generic Triderm cream (Candiderma) by Glenmark
Qualitative and quantitative composition - Generic Triderm cream (Candiderma) by Glenmark is a combination of three compounds - Clotrimazole, Beclomethasone Dipropionate, Neomycin Sulphate 
Action mechanism:
Candiderma cream is a combination preparation for dermatological use. After the application, it has an anti-inflammatory, antiallergenic and antipruritic effect associated with betamethasone, an antimycotic effect with clotrimazole and antibacterial caused by gentamicin.
Beclomethasone Dipropionate is a synthetic corticosteroid (SCS). It has a powerful vasoconstrictor and anti-inflammatory effect.  Beclomethasone Dipropionate is characterized by a rapid and prolonged anti-inflammatory effect.
Clotrimazole has an antimycotic effect (inhibits the synthesis of ergosterol in the cell membrane of molds).
It is used to reduce the inflammatory manifestations of dermatoses complicated by secondary infections caused by sensitive microorganisms and molds: mycosis, candidiasis, multicolored shingles, eczema, athlete's foot, tinea versicolor.
Clotrimazole is effective in the treatment of dermatomycoses such as Tinea redis, Tinea ciuris, Tinea corporis, caused by Trichophyton rlibrum, Trichophyton mentagrophyles, Epidermophyton floccosum, and Microsporum canis; candidiasis caused by Sandida albicans; Tinea versicolar (pityriasis), caused by Malassezia furtur (Pitysporum obiculare).
Neomycin is the broad-spectrum antibiotic that belongs to the group of aminoglycoside antibiotics. It has a bactericidal effect and is highly effective in the local treatment of primary and secondary bacterial infections of the skin. Gentamicin is effective against Streptococcus. (Beta - and alpha-hemolytic group A streptococcus), Staphylococcus aureus (coagulase-positive and coagulase-negative and some penicillinase-producing stains) and Gram-negative bacteria: Pseudomonas aeruginosa, Aerobacter aerogenes, Escherichia coli, Proteus vulgaris, Klebsiella pneumoniae.
Indication - All of the three main ingredients in the cream contribute to the decrease of inflammation and some bacterial infections in the skin.
Therefore Candiderma is used to:
Inflammation caused by dermatosis

Athlete's foot

Tinea curis: An infection caused by fungi in the genitals, buttocks, and inner part of the thighs. It is characterized by a red rash that causes itching.

Candidiasis: Infection caused by the fungus candida. It occurs mostly in the mucous membranes and on the skin.

Tinea versicolor: It is an infectious disease that produces discolored spots on the skin.

Various forms of bacterially infected eczema
Mode of administration - Candiderma can be used for the treatment of adults and children over 2 years. A thin layer of Tridem cream is applied to the damaged area 2 times a day - morning and evening. The duration of treatment depends on the clinical assessment and the severity of the disease.
Special cautions and warnings:
Systemic absorption of corticosteroids, including betamethasone and topical application of gentamicin, would be more important if treatment was performed over large areas of the body or if occlusive clothing is used.
Some side effects occur regularly with the use of systemic glucocorticoids and the local application of glucocorticosteroids such as suppression of adrenal cortex function, especially in children. The prolonged local use of antibiotics can sometimes lead to the proliferation of a resistant microflora.
Do not apply Triderm cream on open wounds and burns. It is not recommended to use Triderm for the treatment of diaper rash. Triderm is not intended for ophthalmic use. The safety of corticosteroids in pregnant women has not been studied. Thus, the use of Tridem during pregnancy should be avoided.
When ingested, this drug can be dangerous. If anyone has overdose issues and has severe symptoms, such as breathing problems, contact emergency medical service immediately.
Side effects
Candiderma side effects of Triderm include allergic contact dermatitis, burning sensation, dryness, exudative erythema, folliculitis, hypertrichosis, hypopigmentation, irritation, itching, local edema, paresthesia, perioral dermatitis, rash, steroid acne, and urticaria.
If the occlusive bandage is used there may be laceration of the skin, secondary infection, skin atrophy, streak, miliaria.
Interesting facts
If not absolutely necessary, this drug is not advised to be used in breastfeeding mothers.

Before using Triderm cream, the physician must evaluate the benefits and risks especially for pregnant and lactating women as well as those planning a baby.

There have been no indications of habit-forming phenomena with this medicine.

There is no established interaction of this drug with alcohol. You must consult your physician before consuming alcohol.

There is no scientific indication of any time frame for this drug remaining active or effective on the skin.

It is not medically known how long this drug needs to show its effect.
Are you still troubled by these problems?